Traffic Analyzing Tools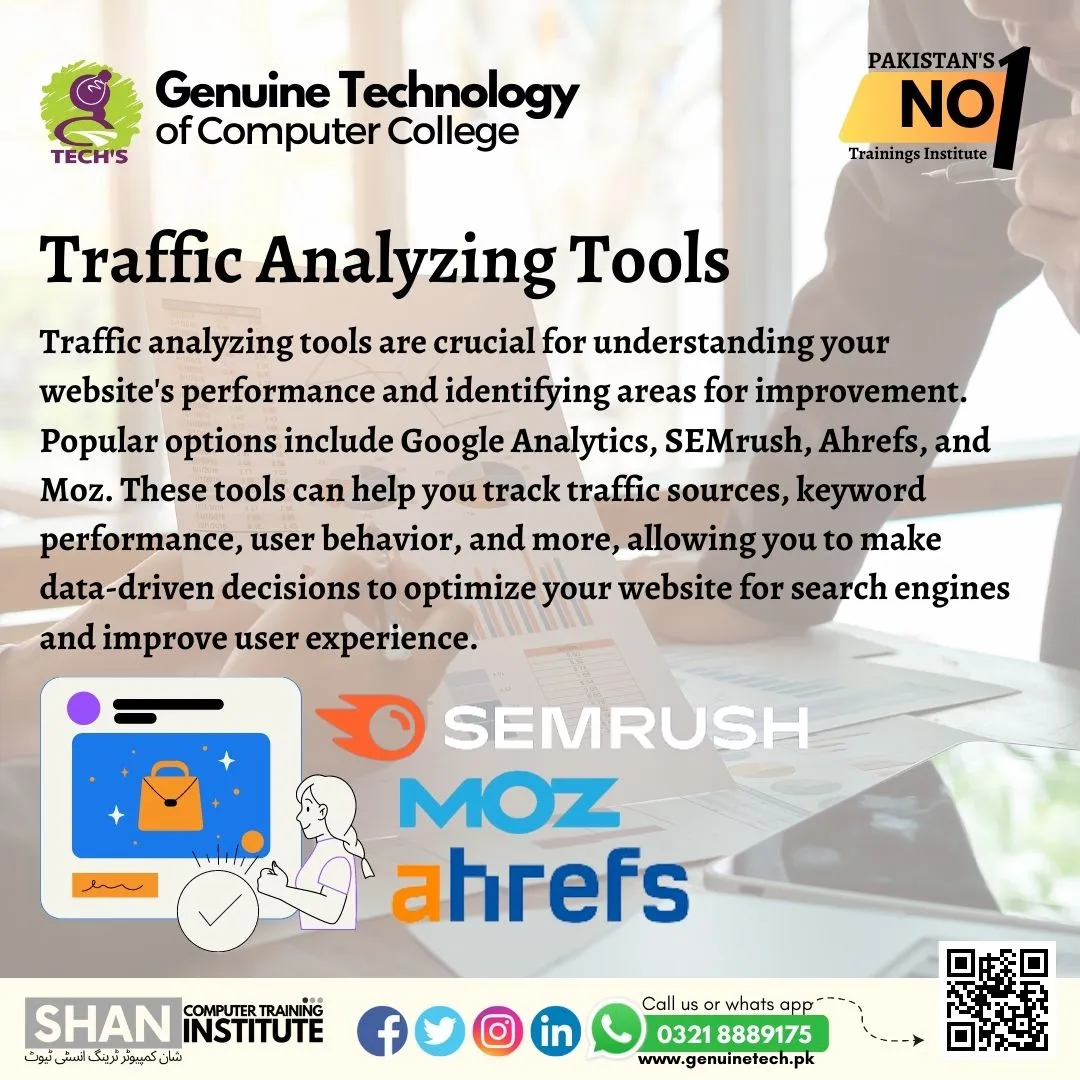 Traffic analyzing tools are software applications that help website owners or online businesses track and analyze the traffic on their websites. These tools provide insights into various metrics, including the number of visitors, the pages they visit, the time they spend on the site, and where they are coming from.
Here are some popular traffic-analyzing tools:
Google Analytics: It is a free web analytics service offered by Google that tracks and reports website traffic. It is one of the most widely used analytics tools and provides insights into user behavior, acquisition channels, conversion rates, and much more.
SEMrush: It is an all-in-one marketing toolkit that includes a website traffic analytics tool. It helps users analyze website traffic, backlinks, keyword ranking, and other related metrics.
Ahrefs: It is a comprehensive SEO tool that includes a traffic analytics feature. It provides users with information about website traffic, organic search traffic, referring domains, and other metrics.
SimilarWeb: It is a market intelligence platform that provides website traffic analytics and other related metrics. It helps users understand the traffic sources, audience demographics, and engagement rates of their websites.
Crazy Egg: It is a website optimization tool that includes a heatmap and click-tracking feature. It helps users understand how visitors interact with their website, where they click, and which areas need improvement.
Clicky: It is a real-time web analytics tool that provides users with data on website traffic, bounce rates, and conversion rates. It also includes features like heatmaps, uptime monitoring, and split testing.
Matomo: It is a free, open-source analytics tool that provides users with detailed insights into website traffic, user behavior, and engagement. It also includes features like heatmaps, A/B testing, and user feedback.
These tools can help businesses and website owners understand their audience better, make data-driven decisions, and improve their website's performance.